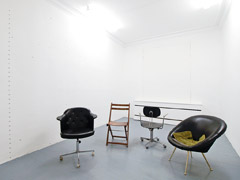 Untitled
Copy letters, chairs, 2010
Photography: Marco Schwensfeger 2010
Mareike Bernien
Der Ort als Abstand, Teil zwei. (The place as distance, part two)
with Mayer, Schrödinger, Wieger

"We search and research the 'as-found' – where the art is in the picking up, turning over and putting with... and the 'found', where the art is in the process and the watchful eye...", Alison and Peter Smithson said, who were part of the Independent Group. This London-based group discussed the production of art and architecture in connection with social developments on a basic level. They did this by the use of texts, exhibitions and in seminars, trying to challenge the borders of disciplines like high culture and popular culture, arts, architecture and design. The exhibition "Der Ort als Abstand, Teil 2" will show an excerpt of our continuous inquest about the Independent Group and their works.
Is it possible to update the promise of an exhibition like "Parallel of Life and Art" (1953)? How to trace a claimed shifting of the former concept of art with the archived materials at hand? Was the supervisory staff obliged to guard press-clippings in this case?



Untitled
Copy letters, 2010
Photography: Marco Schwensfeger 2010

Untitled
Copy letters, 2010
Photography: Marco Schwensfeger 2010



Untitled
Copy letters, chairs, mp3-players, headphones, sound, 2010
Photography: Marco Schwensfeger 2010



Untitled
Copy letters, 2010
Photography: Marco Schwensfeger 2010



Untitled
b/w-photocopies, 2010
Photography: Marco Schwensfeger 2010





Untitled
b/w-photocopies, 2010
Photography: Marco Schwensfeger 2010


Untitled
b/w-photocopies, 2010
Photography: Marco Schwensfeger 2010

Untitled
Copy letters, mp3-player, headphones, sound, 2010
Photography: Marco Schwensfeger 2010