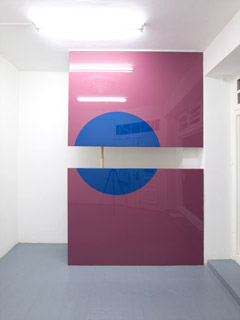 "Hinten und Vorne" 2009 - 2010
various materials, 305cm x 190cm x 51cm
Photography by Marco Schwensfeger 2010
JENNIFER BENNETT

In her sculptures, installations, paintings and overpaintings, Jennifer Bennett discusses urban space and its organisation.
The boundaries between everyday life and exhibition situation appear blurred. Daily life experiences; their material, patterns and general rhythm are merged with institutionalised exhibit experiences. Thus the glossy, repellent surfaces and reduced shapes of her sculptures fascinate the spectator by their crystalline structure, which is potentially to be seen as an allegory for order and organisation. At the same time this structure shows similarities to modern urban environments.
However, the idea that Bennett could move up these aesthetics in plain contrast against a certain "nativeness" is not to remain un-ruptured or undisturbed. The objects raise the question to what extend a term of nature could possibly already be a c! onstruction. By doing so, the whole dichotomy of "nature vs. culture" is put into question.
Born 10th of November 1976 in in Schaffhausen, Switzerland
Lives and works in Berlin
since
Oct.
2007



Sculpture studies at Prof. Andreas Slominski, HfbK Hamburg
2006
-07
University of Fine Artsl (HfbK), Hamburg
1999
Starting as self-taught artist
1996-2000


Diploma in psychiatric nursery


Selected solo exhibitions:

2010




"Rückgriff auf die neue Sachlichkeit" WCW - Gallery, Hamburg
2008
"Im Binnenraum der zweiten Natur", Trottoir, Hamburg
"Herberge der Formen ohne Inhalt", Pudel Collection, Hamburg
2007
"Das Offensichtlichste ist auch das Naheliegendste, ist die Tatsächlichkeit
der konstruierten Konkretion", Hinterconti, Hamburg
2005


"Neon 3", Les Complices* Espace libre&Èdition, Zürich
"FLO 312", Galerie Einhorn, Schaffhausen/CH

2004

"3 Gänge", Vebikus, Schaffhausen/CH
Selected group exhibitions
2009



"Erntenullneun", Museum zu Allerheiligen, Schaffhausen/CH
"stück man rück", Fotofolgen, HfbK Hamburg
"Between space and content", Museum of art and ideas, HfbK Hamburg
"Dare release Ausstellung", Galerie Conradi, Hamburg

2008


"Stadt macht Kunst", Stadtteilausstellung im Linden Quartier, Hannover
"Constructive mismatch", University of Dundee Exhibitions department, Dundee, GB
2007
"Ernte 07", Museum zu Allerheiligen, Schaffhausen/CH
2006


"...", Galerie der HfbK, Hamburg
"La Luna. La Diva", Likeyou.projects, Zürich/CH
"577 km süd", GKK Kunst Spektrum, Krefeld/DE

2005



"Boutique Art for the masses", Les Complices*, Zürich/CH
2004


"3-dimensional", Galerie Annamarie M. Andersen, Zürich/CH
2002
"Sehen", UBS - Kulturfenster, Schaffhausen/CH
"Ernte 02", Vebikus, Schaffhausen/CH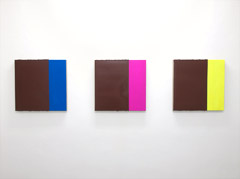 "Neonbraun Nr.1, Nr.2, and Nr.5, ", 2010
3 canvases 60cm x 60cm x 4.5cm,
brown oil color, acryllic color
Photography by Marco Schwensfeger 2010